SILIMA-Cuisine

In our clinic the quality and the regularity of food is very important. Everyday fresh ingredients are used for cooking. To make the food both – healthy and delicious – first quality ingredients, ability and special knowhow about the preparation of chinese herbs are needed.
The knowledge about chinese medical dietetics is used for the selection, preparation and refinement of the dishes.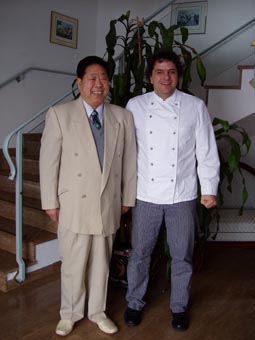 By the help of Dr. Friedls long-time-friend Prof. Fan Jiayong from Chengdu University of TCM, Sichuan, it was possible to introduce dietetic arts on highest possible level to Klinik Silima.In Prof. Peng Mingquan, who has written more than 160 books and who is a well known expert in chinese dietetic in China, we found a longlasting faithfull advicer concerning the integration of asiatic cuisine in our daily food. His speciality is the preparation of chinese medical herbs and the integration of those herbs in the dishes. He has developed special methods to prepare those plants and to transfer the healing aspect of the plants into sauces and fonds, which was very hard work, because not all of the plants are suitable for cooking. The healthy effect doesn´t decrease the flavour any way. In fact we managed with the help of Prof. Mingquan to design diet-dishes on gourmet-level bewitching our patients.

It was a pleasure for us to welcome Prof. Peng in spring 2005. It has been an honor for Peter Asch our chief of cuisine to work together with him for 2 months. Mister Asch has achieved his knowledge about cooking in western highclass restaurants, e.g. while working with Eckart Witzigmann. During those 2 months Prof. Peng was staying in our clinic (from february to march 2005) they were working together very intensive, exchanged their cooking experience and developed 120 dishes. The teamwork of those two cooks has no equivalent until now and was highly appreciated on television (Bayrischer Rundfunk, Rundschau on the 16th of March 2005).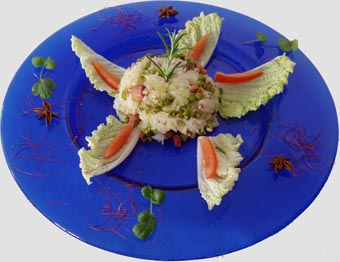 The outcome of this collaboration are the delicouse dishes our patients and the clinic staff can enjoy every day. Asiatic compatibility mixed with domestic ingredients leading to an undogmatic, delicous and very compatible food – named Silima-cuisine. Everyone who wants to get more informations concerning the cuisine please call 0049/8036-309-144. There you can also get information about the public cooking courses that are held in the clinic Silima from Mister Asch.